10/100/1000 with 4ports PoE+1SFP uplink switch unmanaged with 65W
Description:

The PoE switch, supports IEEE802.3af/at POE standard, using advanced sensing algorithm, only for the terminal device which support the IEEE802.3af/at power over Ethernet standard, do not need to worry about damage to private standard PoE or non- PoE devices. Automatic recognition of PoE demand, speed, duplex and using the Auto Uplink cable, simple and convenient to use, no need to configure, plug and play.
Comprehensive, flexible power over Ethernet (PoE)
Power over Ethernet (PoE) optimizes the installation and power management of wireless access point (AP), VoIP phone and IP camera. Power over Ethernet (IEEE 802.3af/at) reduces the time and installation cost of many new network equipment. Your wireless AP and IP camera can be liberated from power lines.
The single output automatic protection, automatic recovery
The PoE switch support single output and automatic protection function, in order to protect the remote equipment safety, and other port work, it automatic stop power supply to the port when detected power single output exceeds 20% of the normal output power . After 1,2 minutes, automatic recovery power supply for the equipment of the port, if not found abnormal electrical power supply, will resume normal power supply.
Provide LED instructions, can judge the running state
The POE switch provides a LED indicator for each port, can be very intuitive know whether connect load of each port, and the work station of each device, and provide POE power supply information for user.
Main characteristics:
· The furthest distance of power supply is 100 meters(Some POE switch with CCTV function can support 250 meters).
·4/8/16/24 port with PoE function.
· Support one fiber port of uplink.
· Each port supports auto MDI/MDIX and auto negotiation.
· Store and forwarding, support port isolation.
· Support two lightning of uplink port.
· Support IEEE 802.3x Full-Duplex and Backpressure Half-Duplex.
· Support IEEE802.3af/at standards, can provide 15.4W/30W per port.
· Automatic detection and recognition PD device which in accordance with IEEE 802.3af/at and power supply for the device.
· Intelligent power management, if the electrical equipment power exceeds the normal power output, the system will cut off power supply of the port, after 1-2 minutes,
it will reexamination and power supply.

· Low power consumption, no fan design, natural heat
· Zero configuration characteristics, power is automatically supplied to the adaptive equipment

About PoE Switch: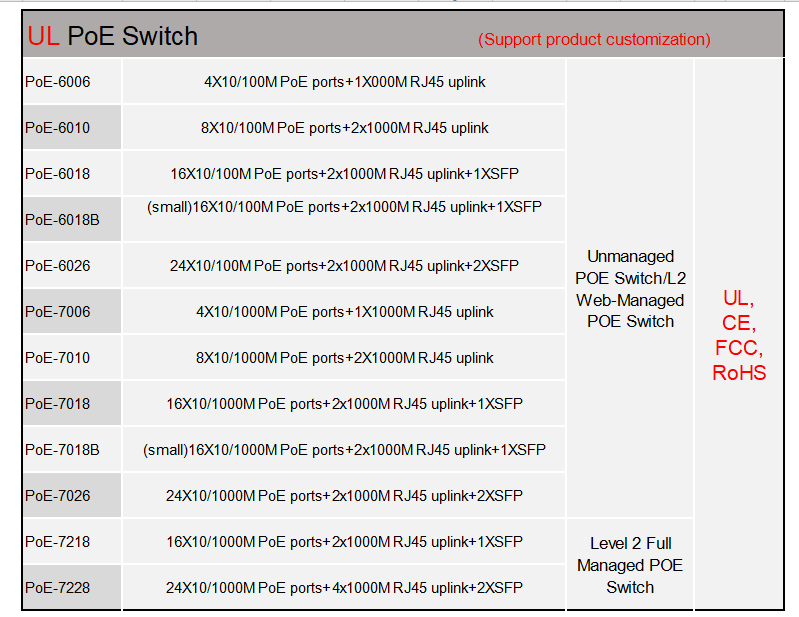 Products: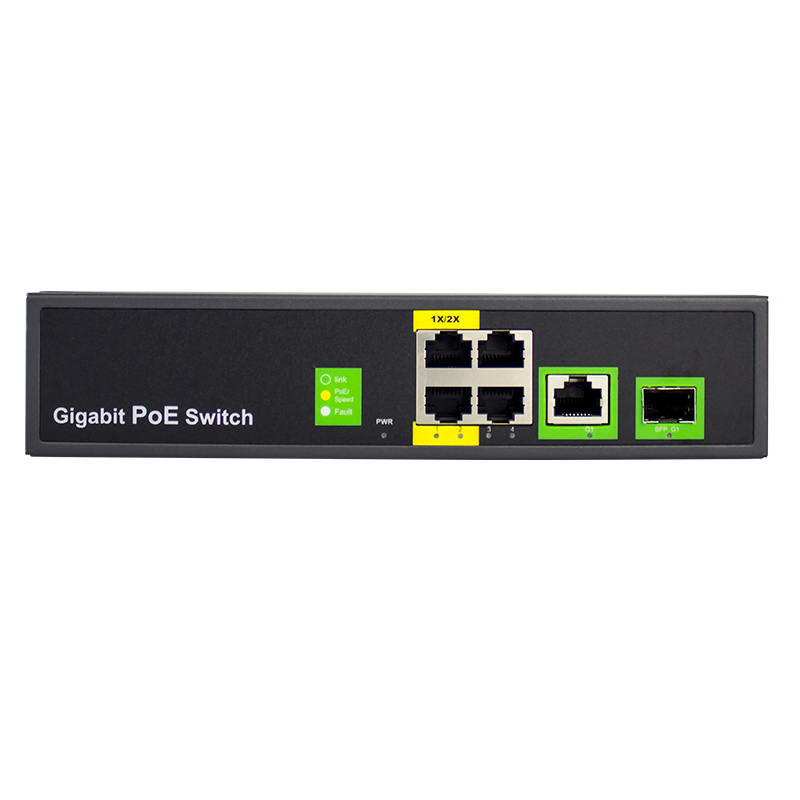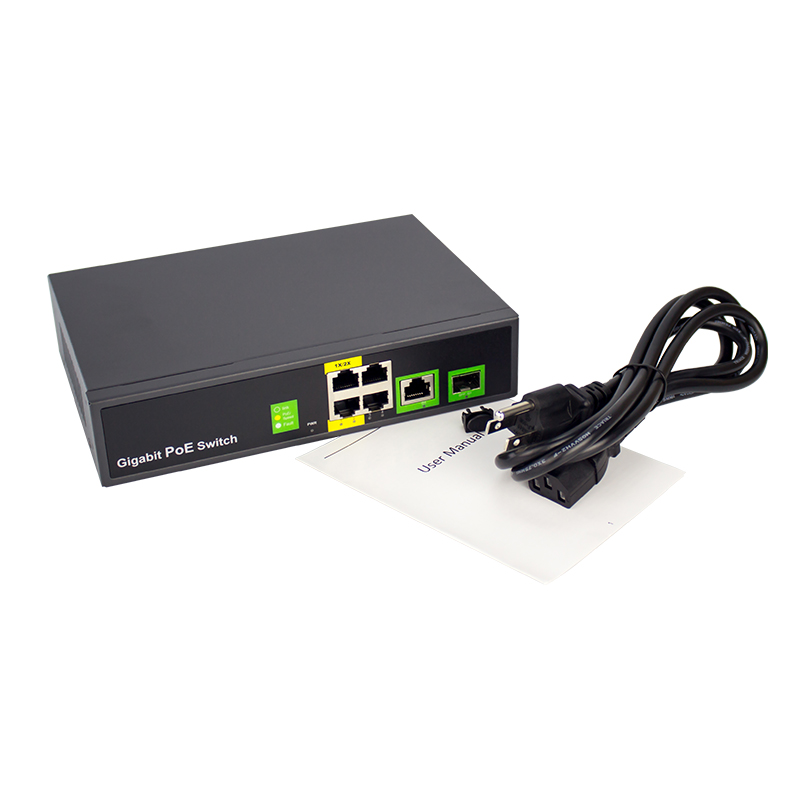 Q1: Are you a factory? What is the MOQ of your product?
A: Yes, we are a POE Switches & Power Supply factory. Our MOQ is 100 pcs.
Q2: How many years is your products warranty?
A: 1 year.
Q3: Do you accept OEM?
A: Sure, we accept OEM, MOQ: 500~1000pcs.
Q4: What is your delivery time and payment term?
A: We will reply the specific delivery time according to your order qty. Usually 7~10days for 100pcs. We accept T/T, Paypal and Western Union payment method.
Q5: Do you have any certification?
A: Yes, we have UL, CE, RoHS right now. If you need other certifications in large quantities order, we can apply it for you.